Kenyans have been listed by the World Health Organization (WHO) as the most unfit and unhealthy people in entire East Africa. According to a detailed health report compiled by WHO after an extensive survey released on Wednesday, September 5, 15.4% of Kenyans are not active and fit as per the recommendations of the healthy body.
The WHO conducted the survey in 168 African countries including Nigeria and involved 1.9 million participants including 4,127 Kenyans from both urban and rural areas. It was found 15.9% of Kenyan males and 16.9% of females were inactive because they were more sedentary. Compared to Uganda which is the most active population in the world, Kenya had three times more people said not to be active enough to stay healthy.
Of the studied 168 countries, only seven – Uganda, Mozambique, Lesotho, Tanzania, Niue, Vanuatu and Togo – had less than 10 per cent of their populations not active enough. This means more than 90 per cent of their populations met the recommended physical activity levels.
The WHO survey concluded that 6.5% of Kenyans did not engage in the recommended amount of physical activity. The organisation recommended people in countries like Kenya should engage themselves more in physical activities to reduce the risk of cardiovascular diseases, hypertension, diabetes, breast and colon cancer among other ailments.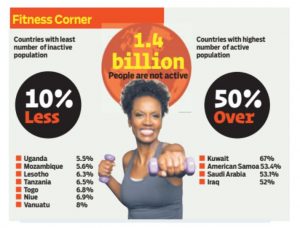 On the other hand, Kuwait had the highest number of people, 67 per cent, not active as recommended. The report shows globally, four countries – Kuwait, American Samoa, Saudi Arabia and Iraq – had half of their population not active enough.
Jewel Ike-Obioha
Is an enthusiastic and open minded writer. She believes in excellence and is always willing to lend her voice to necessary courses that are dear to her heart. Jewel is also a content developer and an upcoming media strategist.