The natural beauty endowed in Nigeria is undeniable as thousands flock the country yearly to visit some of her tourists' attraction sites. Whether you live or you intend planning a visit to the most populous West African nation, here are some of the most attractive tourist sites that should make your list.
Yankari Game Reserve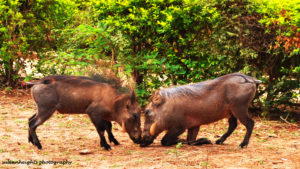 Yankari Game Reserve is located about 225km east of the Nigerian city of Jos and it covers an area of 2,244 sq km. Yankari Game Reserve has been described by the Lonely Planet Guide as holding "about the only remnant of wildlife left in Nigeria."
With over a hundred elephants, this park has the largest elephant population in West Africa. However, sighting the animals is not so easy, as the vegetation in the area is quite dense. The best time to view the animals is late February to late April. Baboons and elephants often come down to the springs. Accommodation is available at a hotel at the warm springs. The other option is to stay in Bauchi, 117 km northwest of Yankari. Camping facilities are also available.
Cross River National Park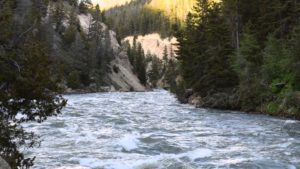 Cross River National Park is an integral part of the Cross River State rainforest conservation area, located in Boki LGA and spans from Kanyan to the foot of the Obudu plateau with a total land area of 720sqkm of rugged mountain scenery and rolling hills.
Cross river national park is divided into two sections; the smaller area to the north-east, Okwangwo Division, is separated by about 50 km of disturbed forest from the larger Oban Division. Oban Division is contiguous with Korup National Park in Cameroon.
The Cross river and its tributaries drain northern parts of Oban Division, while southern parts are drained by the Calabar, Kwa and Korup rivers.The park is one of the richest areas of tropical rainforest in West Africa. Currently, the WWF, the Nigerian Conservation Foundation, and the Federal Parks Service are carrying out an integrated conservation and development project in the northern part of the park.
Idanre Hills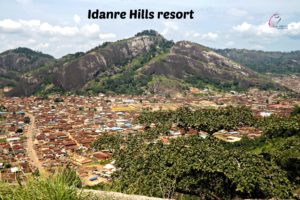 Idanre Hill is one of the most beautiful natural landscapes in Nigeria. Added to Idanre Hill beauty, which fires human curiosity is the fact that the entire people of Idanre have lived on these boulders for almost a millennium. Located in Idanre Town, about 24 kilometres southwest of Akure, Ondo State capital, the ancient Idanre Hills had been a home for the Idanre community for almost 100 years.
Ikogosi Warm Spring Resort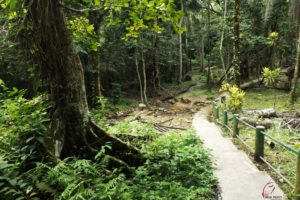 In the heart of Ikogosi, a small, quiet town with rich, local customs, in the Western part of Ekiti State (Ekiti Tourism Corridor), lies a warm spring which has now catapulted Ikogosi-Ekiti to the national and international limelight. What is mysterious about the Ikogosi Warm Spring is the fact that, flowing side by side the warm spring, is another spring, a cold one.
In addition to the beauty of this little town, a well-landscaped 116-hectare resort is located around the warm spring at Ikogosi-Ekiti, tourists are welcomed to stay.
Obudu Mountain Resort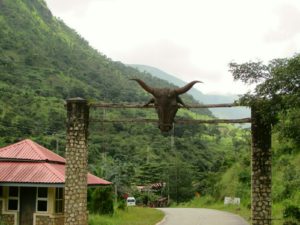 Obudu Mountain Resort is located in Cross River State which is situated close to the border of Cameroon. It offers the leisure seeker and the conference goer a complete contrast. Not only in its temperate climate but also it's exciting and different location.
Also, the temperate climate offers a total contrast and welcome respite from Africa's tropical heat. Idyllic tranquillity, beautiful scenery, and breathtaking views make it ideal for the lone adventurer, families on a reunion, young couple or holiday group.
MicCom Golf Course Ada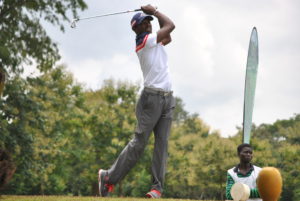 MicCom Golf Hotels Resort is Nigeria's only privately owned golf course with hotel facilities attached to it. It is situated in the rustic town of Ada in Osun State. The course is set in the serene, picturesque location deep within the lovely and tranquil forests of the South-West. The tranquillity in haven is only broken by the musical chirping of birds.
Gashaka Gumti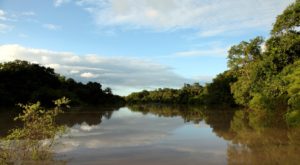 This area is important not only as a major watershed but also as a haven for a rich and exotic assemblage of wildlife, given its strategic location at the interface between the moist Cameroonian Highland and the dry Sub-Saharan Guinea Savannah.
Gashaka-Gumti National Park is located in a mountainous region of North-east Nigeria adjacent to the international border with Cameroon, and immediately to the North of the Mambilla plateau. No roads cross this remote region and only a few lonely footpaths wind through the forested mountains towards Cameroon.
Visitors to the park are able to enjoy lush forests, wide sweeping grasslands, cool highland plateaus, rugged moody mountains, abundant wildlife, and fascinating ethnic cultures, all combined within a single protected area.There are few other places in the world that contain such spectacular scenery and such diverse wildlife.
Afi Mountain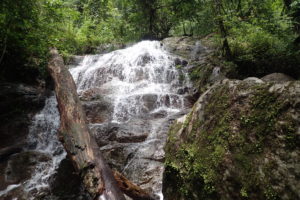 Afi Mountain Wildlife Sanctuary is located in the highlands of Cross River State and it is under the management of the Cross River State Forestry Commission. The wildlife sanctuary is a home to rare chimpanzees, gorillas and drill monkeys.
On Afi Mountain wild drill still survive with other endangered primates including the most endangered gorilla subspecies, the Cross River gorilla. The rugged massif (1400m) is a critical watershed for dozens of communities. Afi Mountain is listed as an IBA (Important Bird Area) for Nigeria and hosts one of the largest migratory swallow roosts in Africa.
Okomu National Park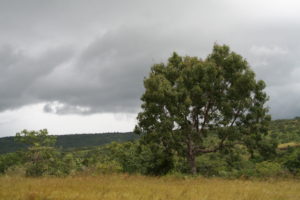 Located in Ovia South LGA, the park which lies about 50km west of Benin City, Okomu National Park, formerly the Okomu Wildlife Sanctuary, is a forest block within the 1,082 km² Okomu Forest Reserve.
The park holds a small fragment of the rich forest that once covered the region, and is the last habitat for many endangered species.The park holds a remnant of the Nigerian lowland forests that once formed a continuous 50–100 km wide belt from the Niger River west to the Dahomey Gap in Benin.
Kamuku National Park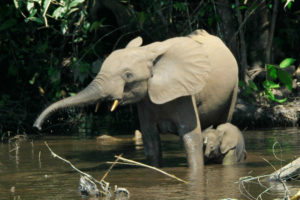 Kamuku National Park has a total land area of 1121sqkm of typical savanna woodland vegetation and a wide variety of birds and other animals like elephants, antelopes, oribi, waterbuck, wet cat, green monkey, side striped hyena, and jackal.
Situated in Birnin Gwari, Kaduna State, Kamuku National Park is also a home to the Secretary Bird (Sagittarius serpentarius), Denham Bustard (Neotis denhami) and Abyssinian Ground Hornbill (Bucorvus abyssinicus).
Awhum Waterfalls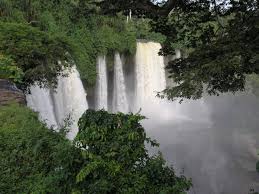 Awhum Waterfalls is situated at Amaugwe village of Awhum town in Udi Local Government Area of Enugu State.This beautiful Awhum Waterfall is as a result of massive outcrop of granite rock with water cascading over the top forming a stream. A section of the waterfall is always warm through the season. The Waterfall is 30 meters high and is located close to Awhum Monastery.
The water is said to be curative (have healing power) and capable of dispelling evil or satanic forces if and wherever sprinkled.
Kajuru Castle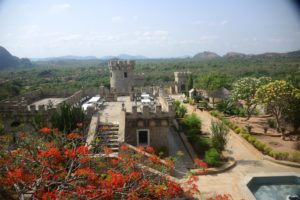 Kajuru Castle is an ancient monument which was built-in 1978 by a controversial German expatriate living in Kaduna. The style is very European and clearly German with a baronial hall, complete with suits of armour. It has dungeon-style bedrooms and towers with crenulated walls.
Lekki Conservation Centre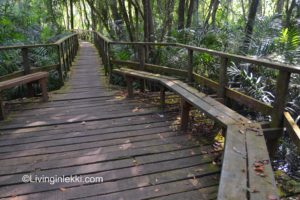 Lekki Conservation Centre is a 78 hectare (or 190 acres) Natural Resource Conservation, which is situated in Lekki, Lagos State. It was established in 1990 to serve as a biodiversity conservation and environmental education centre. Talking about the Lekki Conservation Centre canopy walk, it is considered to be one of the best ways to feel closer to nature and relax.
The Centre is spread over a vast 190 acres and has the typical savannah and swamp habitats of the Lekki demi-island. The centre t has plenty of animal species that can be easily seen from the raised canopy walkway. There are a lot of endangered species like Maxwell's duikers(small African Antelope), monitor lizards, bushbucks, snakes, monkeys, and others are taken care of in this wonderful zone.
Nigeria is a country with vast natural abundance and tourist attraction sites are said to be found in almost every state of the federation.
SaveSave
SaveSave
SaveSave
SaveSave
SaveSave
SaveSave
SaveSave
SaveSave
SaveSave
SaveSave
SaveSave
SaveSave
SaveSave
SaveSave
SaveSave
SaveSave
Jewel Ike-Obioha
Is an enthusiastic and open minded writer. She believes in excellence and is always willing to lend her voice to necessary courses that are dear to her heart. Jewel is also a content developer and an upcoming media strategist.