If you have been following our lifestyle account on Instagram (@naturaljunkielifestyle), you would know that we are huge fans of Natural Nigerian skincare brands. In fact, we dedicate two days a week to showcase some of the best brands currently on the market.
Malicha' Luxury is an ethical Nigerian skincare brand that focuses on producing natural, sensual & luxurious products and services. The brand has a range of skincare products created with raw materials sourced from local farmers in Nigeria, Ghana & Morroco. They are committed to promoting sustainable livelihoods through their partnership scheme with local farmers.
Another interesting fact about this brand is they are the first Beauty Brand in West Africa to have a recycling program.
The NaturalJunkie Beauty Team received a bottle of their newly launched Liquid Black Soap from their debut line, this is our honest review.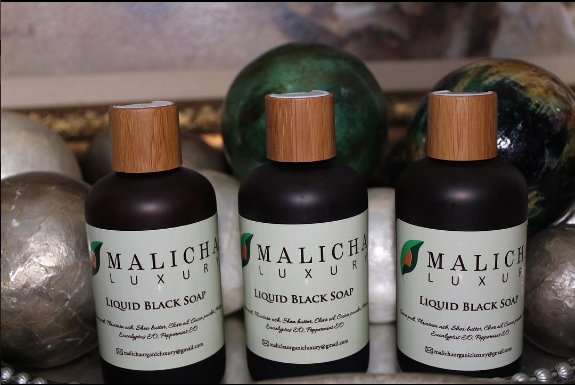 First Impression
Packaging: The first thing you notice about the brand is its packaging. We were super excited to find a Nigerian brand that created a product with a beautiful and luxurious look and touch. The Liquid Black Soap comes in an amber-like PET bottle and a wooden cover. The scent isn't quite familiar but a quick look at the ingredient list shows that it has a combination of essential oils which include; clove oil, peppermint and eucalyptus essential oils which gives the product a unique scent.
Ingredient List
The following are all the ingredients listed in the product– Cocoa pod, Plantain ash, Shea Butter, Clove Oil, Cocoa Powder, Honey, Eucalyptus Essential Oil, Peppermint Essential Oil. 
We were happy to note that the product was made from all natural ingredients.
Product Promise
There isn't one on the label of the product but a quick look at their Instagram bio says; bespoke formulations processed scientifically then handcrafted to perfection.
Verdict
I used the liquid black soap as a cleanser leaving out my face as I am particular about trying new facial products. So, I used the product on my body alone. It has a semi-solid consistency that isn't too runny. The cover is great for curbing waste so you can just take the exact quantity you need. As expected of liquid black soaps, it lathers very well. You're guaranteed of a great cleansing session. The scent isn't very overwhelming so you can get past it quickly. Overall, it's a good product that can be used for hair and skin.
Don't forget to check out their face mist and luxury butter.
Where to purchase: Malicha Luxury Instagram.
Product  Website: http://www.malichaluxury.com
RELATED: 5 Nigerian Natural Hair Brands You Need To Know
SaveSave
SaveSave