Evidently, before Nigeria's venture into the production of oil in the 1960s, agriculture was the main stay. This practice is gaining the light of day again as several entities –both individual and the government – are now tapping into the limitless opportunity it provides. However, the highly promising sector hasn't been without drawbacks.
Understanding the prowess and drawbacks in this sector, the intellectual minds of Isaiah Udotong (CEO), Ikenna Nzewi (COO) and Uzoma Ayogu (CTO) were spurred to proffer a solution — Releaf.
Releaf is an online marketplace that connects buyers and sellers of agribusinesses to trustworthy customers. Just as the name suggests, the Nigerian-American founders seek to relieve and wade off persistent uncertainties amongst players (especially sellers) in the agricultural sector.
"Ironically, the internet hasn't made finding a trusted business easier. Existing B2B portals are full of fake businesses trying to deceive people. Because of this 419, many businesses don't trust B2B internet portals. I've spoken with tens of agribusiness entrepreneurs and they've told me their businesses are struggling to grow because of a lack of trust and reliability with other businesses. They don't need another portal with thousands of random businesses. They need a short-list of the ones they can trust. We have created a free solution to this problem," Ikenna Nzewi (COO/ co-founder).
The team has recently secured a $120,000 investment from YCombinator, the world's most prestigious early startup investor, to scale its solution in Nigeria. Up until the investment, its founders were working on Releaf part-time while studying.
Inspired to work in Nigerian agriculture by Former Minister of Agriculture and current AfDB President Akinwumi Adesina, the three founders spent the past several months, working to understand the challenges for businesses in Nigerian agriculture. Through hundreds of calls and several trips on-ground, the group continued to hear that one of the largest challenges these businesses face is obtaining buyers for their products. Despite the existing B2B solutions crafted to facilitate this, that problem was consistently the most frequently mentioned.
In the bid to guarantee safety and make the platform of mutual benefits to trade parties — farmers, processors, exporters, and off-takers — the agro-startup subjects its users to a thorough verification process. Users must be registered with the Corporate Affairs Commission (CAC) and have two references.  According to Uzo, a user who is incorporated with the CAC will find it tough to involve in any fraudulent or nefarious activity. Isaiah further explains: "If we have your verified references, then you have nowhere to run."
How Does Releaf Work?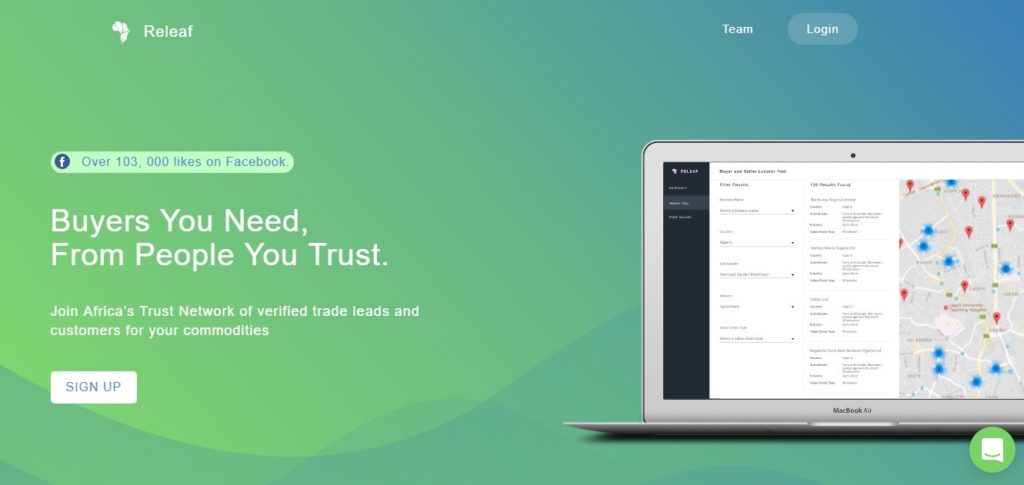 Sellers have to register and indicate which commodities they are looking to sell. They are then presented with a list of verified buyers to contact for those commodities. Releaf proceeds to verify the seller and allows the buyer to decide if they would like to discuss the contract further. An added advantage to using releaf is that, instead of sending cold inquiries to buyers, contacting is directly facilitated by Releaf to ensure a 90% response rate from clients.
Also, one of the key benefits of the platform is when businesses provide more information about who they work with; they increase the likelihood of the platform informing them of a mutual connection shared with buyer contract holders. For instance, if Chima Amechi has 5 business relationships and Ade Olutobi has 5 business relationships, their connection can result in each of them gaining 5 new business relationships.
Releaf's business network is referral-driven. Companies with mutual ties are also recommended to connect with one another as done on Facebook. When a business connection is established, both parties can double the network of businesses they are now connected to.
According to the founders, Releaf now has about 300 active users, 100 connections and 600 companies on the platform. Releaf aims to map out Nigerian agriculture in its entirety over the next 12 months by registering 20,000 businesses.
Even though the company is currently focused on Nigerian Agriculture, it aims to serve as a central platform that powers African trade in the future.
The company's vision "is to make doing business in Africa easier, Isaiah explains because for too long reliable business has been restricted to few trusted partners and have not found success finding partners on B2B sites. At Releaf, we believe with a larger trusted business network, private sector growth can be stimulated across the African continent."
Agribusinesses that seek trusted buyers and sellers are encouraged to sign up via www.releaf.ng
SaveSave
SaveSave
SaveSave
SaveSave
SaveSave
SaveSave
SaveSave
SaveSave
Jewel Ike-Obioha
Is an enthusiastic and open minded writer. She believes in excellence and is always willing to lend her voice to necessary courses that are dear to her heart. Jewel is also a content developer and an upcoming media strategist.