Let's just be honest, sometimes relaxed hair can become frustrating and you have to look for weaves or wigs just to take care of it. This is even more irritating if you live in Nigeria where the temperatures are not all favourable to the hair. Sometimes maintaining relaxed hair gets frustrating. With all these disadvantages of relaxed hair, going natural is the real deal. The thing with natural hair is that it has got diverse textures, colours and sizes too. Moreover, you are free to style it according to your skin tone are even face shape. As long as you are taking care of it thoroughly, you should never worry about styling it, whether short hair or long hair.
Natural hairstyles in Nigeria
African women are known to have the most unique artistic nature when it comes to styling their African hair. African natural hairstyles are not all that difficult to master and keep up with; you just have to be adventurous when it comes to styling your hair. If you already have natural hair, whether short or long and you are wondering which style would work on you, then read on. This could be your new naturalist directory.
Below is a list of awesome and beautiful natural hairstyles that you can find for both long and short hair.
Dyed short hair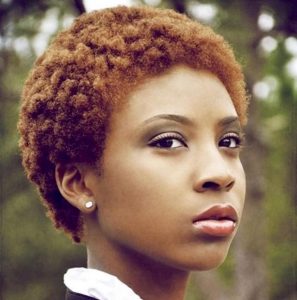 Number one on our list is a short hairstyle that can be worn for any occasion you would want to attend. This is the best hairstyle especially for that person who just shaved their hair in order to go the natural way. With this short hairstyle, you will only need to visit a hairstyle guru for them to suggest the best hair dye for your skin tone and hair texture. You have to be a little cautious when it comes to hair dyes because they can be a little messy. This is why you should consider visiting a trusted and professional hairstylist. Once your hair is dyed then the specialist will give you instructions on how to take care of it as your hair grows.
Half twist natural hairstyle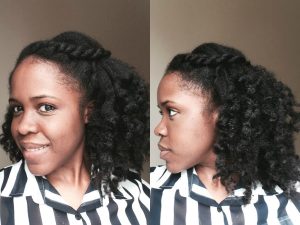 This one is the best for those who have long hair and do not want to braid all of it but still want to look gorgeous. You have to put in mind that if you want to grow your African hair long, then you need to plait it more often. You do not have to put on heavy braids though, just plait a few cornrows and you will be good to go. For instance, with this hairstyle, you will only need to twist a few cornrows on the side and let the other side of your hair fall. The side that is not twisted should be a bit curly for it to look even more glam.
Wash and go African natural hairstyles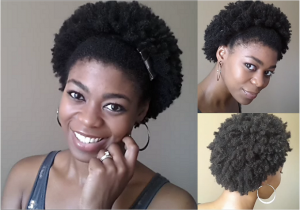 This is referred to as wash and go because it does not require numerous adjustments to come up with the style. You just need to wash your hair with shampoo, deep condition it and apply the treatment on it. In addition, you can apply oils and moisturizers for it to look even more glam. When you have treated it, avoid drying it too much you have to comb it when it is a little dump. You can also do a bun with your wash and go or just let the fro crown create some attention.
Finger twist natural hairstyles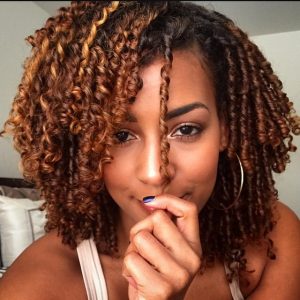 Just as its name suggests, you will just use your fingers to style your hair. This is one of the natural hairstyles for a wedding. For this style, you will need a good natural hair gel that is used for hairstyling. The first thing you have to do is wash your hair with shampoo and then use conditioner on it. Do not let it dry too much; it will not produce the much-expected results if it's too dry. Apply the gel to your hair and then start coiling it using your fingers. You can decide to have a front updo and then coil the hair that is close to your face. You can also let it fall over it will still look marvellous.
Fro-hawk easy hairstyles for natural hair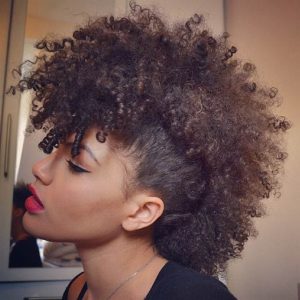 This is just a variation of a Mohawk style that is done African hair whereby the sides and a part of the back are cut or held up. This is one of the short natural hairstyles that do not need a lot of work for it to be done. It will look exceptionally beautiful especially if it has been dyed and has some curls. This can be done on medium length hair, if you do not wish to cut the sides or the back of your hair, then you can use some bobby pins to put the hair in place. To achieve a curly look, you can roll your hair using a partly dry towel to rub it up.
Teeny weeny afro natural hairstyles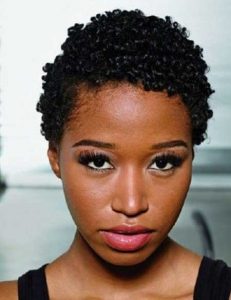 This is a good natural hairstyle for short hair. This style is very simple, you just have to keep it hydrated and moisturized to make it appear lustrous. The teeny weeny if taken care of, is the best for summer seasons in Ghana. It gives your hair the much needed for it to grow in a healthy way. In addition, it gives you time to concentrate on your makeup. This cool natural hairstyle can be trusted to even attend parties and occasions with. It is just simple to live with just it. You, however, need to take moistening the teeny weeny afro with a little more seriousness. It needs to get moisturized from time to time in order for it to grow.
The tapered cut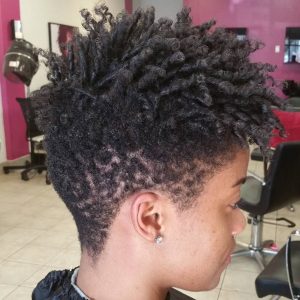 This style too is best used on natural medium length hair. It quite resembles the frohawk. The perfect tapered cut, however, needs to be cut short at the back and comb it towards the front and upwards. It is a natural style that many young women love. You can also dye the top according to your skin tone. It also needs regular trimming at the back from time to time and some moisturizing too. This look can be perfectly done by a professional barber. A combination of the tapered look and good makeup will absolutely make you stand out from other ladies in your midst.
Combed out Afro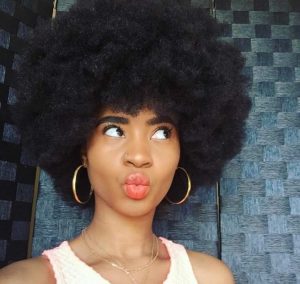 This is one of the easy hairstyles for natural hair, you simply wash your hair and comb it to a big afro. This is a good natural hairstyle for those with long hair and is out of ideas on which styles to put on. This is a classic one but you can give a modern touch by adding a flower detail. To achieve the combed out afro style perfectly, you need to have your hair washed and moisturized already. Comb your hair without leaving any part out. Combing should be done on wet hair to avoid breakage and discomfort.
Natural mohawk haircut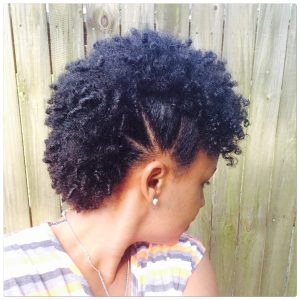 This is great for the people who are wondering what to do with their damaged relaxed hair. It's quick and easy, just get a mohawk cut. You will also need to have it done at a professional barber for it to be perfectly done. A mohawk haircut does not require a whole bunch of hair regimens to keep it looking awesome. It can be as simple as waking up applying some good oil and off you go. This is an incredible style for those who don't have time for demanding hair regimens or are just tired of having long hair.
Bantu Knots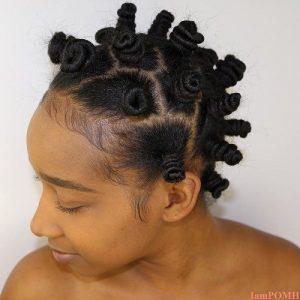 This is a protective style and it can also be done on both short and long hair. It is also used to bring out those curls that you would want on your hair when you undo them. Mostly, naturalistas make Bantu knots overnight then undo them to reveal the coils made overnight. Moreover, they can also be done for outdoor activities, you just need to do them and apply some oil for the hair to appear glossy. They are super easy to do so you can always repair them anytime they appear bushy. They can also help you grow your hair if you keep taking extra care of them.
Dreadlocks natural hairstyles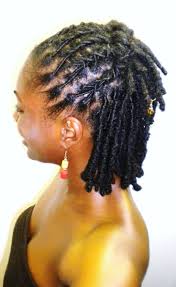 They are popularly known as dreads or locks. They are mostly strands of hair that resemble ropes. There are different methods used to start dreadlocks some of which you can master and do it yourself without having to visit a dreadlocks guru. However, you may need the help of a specialist especially if you are intending to have them for quite some time. A specialist will be there to advise you on the best regimen to avoid them from too much tangling and hair breakage. Dreadlocks always need that extra care for them to look neat and fabulous. If you want a more girly look, you can choose to dye them at the tips to make them look unique and beautiful.
Ghana braids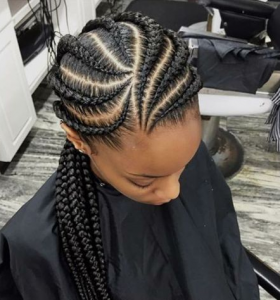 Ghana braids pretty much resemble the goddess braids but the difference lies in the size of the braids. The goddess braids are done without having to use a braid all through whereas the Ghana braids are braided using braids all through. Ghana braids are protective natural hairstyles for medium length hair, they can be done using any direction that is towards the front or at the back. Ghana braids are sometimes referred to as banana braids, cornrows or straight back. Ghana braids originated in Africa.
Twists African natural hairstyles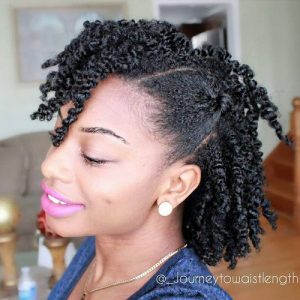 There are many types of twists starting from flat twists, two strand twists but all of them work perfectly as protective hairstyles. If you want to do them by yourself, then divide the hair into sections then twist the small portions of the hair. Twists are a manageable style and undemanding in terms of care, however, make sure to hydrate the hair more often. The results of undoing the twists are what is known as twists outs and the twists outs are great for revealing those awesome curls on your hair. If you wish the curls to come out perfectly it is recommended that you use a styling gel and then keep the twists for quite some time.
Inverted cornrows African natural hairstyles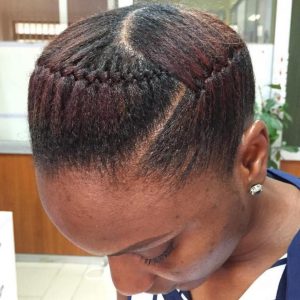 This hairstyle is also known as Didi style, it is a protective style for the natural hair. It consists of only two cornrows that start at the top of the scalp but appear inverted hence their name inverted cornrows. They are very simple to make but you can visit a hairstylist to do them for that perfect fix. They are stylish and able to give that youthful look. They are also very elegant and can be worn for work or weddings.
Straw set African natural hairstyles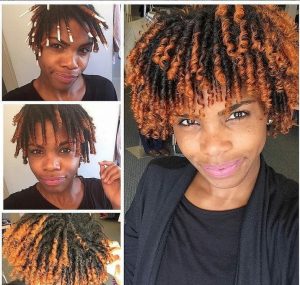 This may appear to be very difficult to do but actually, it's very easy. You must have some flexi rods and a styling gel. Part your hair into the sections that you want your hair done, roll your hair around the rods then sit under a dryer or let them dry overnight. Remember to use the gel when rolling the hair on the rods for it to be firmly secured against the flexi rods. Once the hair is completely dry, remove the rods carefully then remove the beautiful curls using your fingers.
Jewel Ike-Obioha
Is an enthusiastic and open minded writer. She believes in excellence and is always willing to lend her voice to necessary courses that are dear to her heart. Jewel is also a content developer and an upcoming media strategist.