Nigeria has got more flavour than most people give her credit for. As a country with various ethnic groups, this diversity also extends to our cuisines. Nigerian street food offers an appetising array of delicious delicacies.  The streets are definitely part of the most exciting places to visit in and around Nigeria. Most popular Nigerian musicians reference this fact in some of their famed lyrics. Thus indicating that spice and variety of the Nigerian life start from getting it down in the streets. Bearing in mind that streets here mean the downtown parts of main cities.
The beautiful thing about these streets food is that one could easily purchase along the way. If you're a Nigerian or if you have visited this famous West African country, then our list should not be new to you. But perhaps, if you are not a Nigerian or haven't visited, these famed street foods should propel you to take that visit.
Boli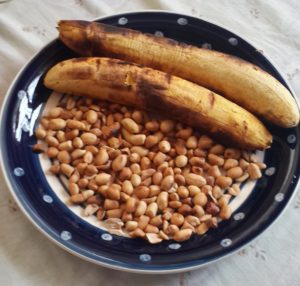 Boli simply means roasted plantain. The nutritional benefits accrued from plantain includes iron, fats and oil and minerals.It contains powerful antioxidants, possessing a high amount of vitamin A. They play a vital role in the visual cycle and also enhance good skin complexion. Plantain is a great meal for weight loss and healthy eating due to its low carbohydrate and presence of other essential vitamins and minerals. Plantain also contains folates, riboflavin, niacin and thiamin. Some of these minerals are essential for a healthy pregnancy.
This street delicacy can be eaten in two unique ways by two unique tribes and people in Nigeria. In Lagos, Boli is eaten with Epa – groundnut. Lagosians love this delicacy and it can be found at almost every street corner.
While in Rivers state, Bole (as it is fondly spelt) is prepared and eaten with grilled fish and delicious peppered sauce. It can also be found at various street corners and it has even been adapted to be served at weddings and events.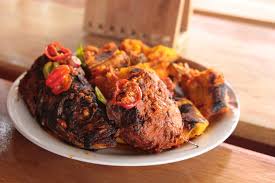 Image Credit: Nigerian Lazy Chef
Corn and Pear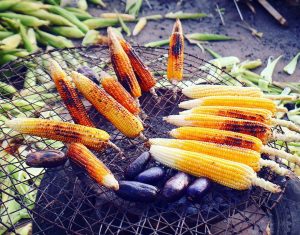 Roasted or boiled, this delicacy is one sure meal you can always have on almost every street location in Nigeria during the rainy season. It is eaten with a special kind of African pear Igbos refer to as ube. Frequent consumption of the African pear provides a rich source of healthy fats, vitamins and essential minerals.It also reduces the risk of haemorrhoids and colorectal cancer.
Abacha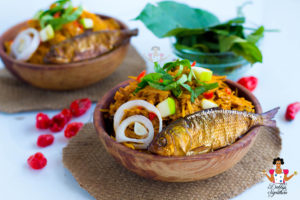 Image Credit: dobby's signature
This is the native African salad. This dish is a mix of vegetables prepared with either Ugba (oil bean), Abacha (shredded cassava) or a combination of both, and other ingredients including afang (spinach), onions, meats, fish and palm oil.
The meal is a huge favourite of Igbos in the eastern part of Nigeria.It is mostly sold by mobile vendors, You will find women selling them in deep trays or food buckets around the streets.  It is indeed a mouth-watering delicacy.  As such, the meal contributes 18.7 percent energy, 22.7 percent protein, 21.3 percent crude fibre, 51.3 percent iron, 30.3 percent phosphorus and 36.0 percent zinc to daily recommended dietary allowances.
Suya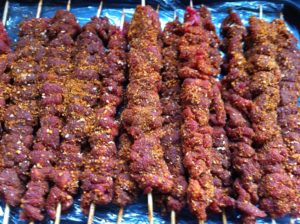 Yummy, delicious, peppery suya can never ever go wrong.  Suya is simply aged grilled meat. This street food is mainly eaten in the evening-time. This is also considered a favourite by most Nigerians.  One reason Nigerians love  'abokis' (a term used for Northern traders) is that they provide us with suya and we cannot thank them enough. To acquire nutritional benefits from this, it is advised to eat suya with vegetables such as onion and cabbage as the fibres provide an additional source of nutrition.
Akara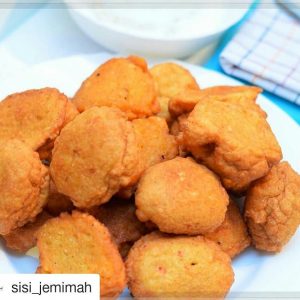 Bean cake, popularly known as Akara, is made up of ground beans and seasoning. It is most times sold alongside fried yam and potatoes and has been serving a good purpose in the lives of hungry Nigerians. According to nutritional experts, each ball of this cake contains 71 calories approximately, if just prepared with the basic ingredients. Its calorie content for fat is just 10 and protein is high as 45 calories and which is really good when it comes to losing weight. Fibre and sugar make up the remaining the 14 calories.
Abacha Mmri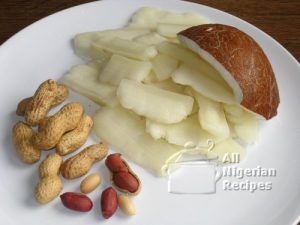 Abacha Mmiri, now popularly referred to as 'Bobozee/tapioca' around the country, is one the best snack for a sunny day, hence the other nickname "Air Condition". Made of cooked cassava strips soaked in cold water and paired with coconut, the snack is not just filling, it is also very tasty and soothing in hot conditions. Nutritional benefits include a high amount of  Vitamin B-complex and Potassium.
See Also
Garden Egg and Groundnut Sauce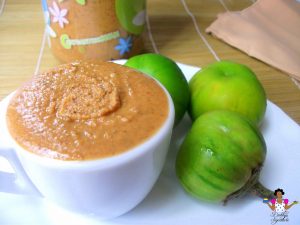 Garden egg is one of the favourite fibre fruits enjoyed by the Eastern people as the plant thrives greatly in the region. More abundant during the rainy seasons, the garden egg, paired with a spicy groundnut sauce is a staple on the streets of Igbo communities.
The groundnut sauce is usually made from a combination of Calabash nutmeg, ashanti and dry pepper, making it a very hot and spicy dip. You mostly, find hawkers carrying the commodity on their heads while parading the streets or sitting at a roadside stall. Garden Eggs are an excellent source of dietary fibre, potassium, manganese, copper and thiamin (vitamin B1). It is also a good source of vitamin B6, folate, magnesium and niacin. Thiamin (vitamin B1) is required for normal growth and proper functioning of the heart and nervous system while Niacin (Vitamin B6) is needed for cellular respiration.
Aki na Ukwa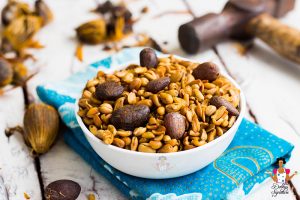 A mixture of coconut or palm nut (aki) and roasted or fried breadfruit seeds (ukwa), Aki na ukwa is one of the most balanced food combinations on the streets of eastern Nigeria.  The snack is usually pack in conical-shaped transparent polyethene packs and hawked around by peddlers. Breadfruit is a rich source of omega-3 and omega-6 fatty acids: besides being beneficial for skin and hair, these two essential fatty acids are quite good for maintaining a healthy heart. Omega-3 fatty acid is also essential for the growth of brain and mind. Experts have commented that regular intake of breadfruit can help a growing child in the development of brain to great extent. Regular intake of breadfruit is beneficial for proper bowel movement and intestine functionalism. The fibre present in breadfruit again helps to pass stool and also drains out toxins from the intestine.
Okpa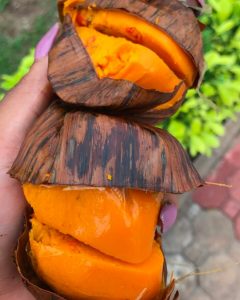 Fondly referred to as "the king's meal", Okpa is a traditional Igbo dish made with flour from Bambara beans. A treasured delicacy, the cooking process is almost the same with moi-moi, however, the taste is unique as the paste is most times combined with vegetables like pumpkin leaves for added flavour before cooking. Some major health benefits of this street delicacy include reduction of cholesterol levels and high antimicrobial action in the gut.
These delicacies can be found in almost every state within in Nigeria. with this street food, they are not only affordable but also nutritious.
SaveSave
SaveSaveSaveSaveSaveSaveSaveSave
Jewel Ike-Obioha
Is an enthusiastic and open minded writer. She believes in excellence and is always willing to lend her voice to necessary courses that are dear to her heart. Jewel is also a content developer and an upcoming media strategist.